2020 Recipient: Chris Triggs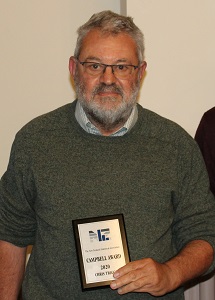 Chris has made important contributions to statistics in New Zealand, particularly with regard to research and consulting. He is an accomplished researcher with an impressive collection of published articles and books. He has served on the editorial boards of Biometrics, and the Australia, New Zealand Journal of Statistics.
Chris also has a strong record in statistical consulting. He established the University of Auckland consulting centre, and has been a consulting statistician for AgResearch, HortResearch, ESR and NIWA.

The purpose of the award is to promote statistics within NZ and to recognise an individual's sustained contribution to the promotion and development of statistics.
Next Round
Next round opens: 18 July 2022
Next round closes: 30 September 2022
Nominations should be sent to Matthew Schofield, Convenor of the NZSA Awards Committee, by email (matthew.schofield@otago.ac.nz).
Award Details
The criteria for the award are:
i) publication of an exceptional body of original statistical research undertaken within NZ; or,
ii) a prolonged and outstanding contribution to statistical education; or,
iii) playing a key role in consulting on major, innovative research projects that has direct relevance to NZ; or,
iv) making a leading contribution to the promotion of statistics within NZ over a sustained period.
The award is known as the NZSA Campbell Award.
One award will be given annually, at the NZSA annual dinner in conjunction with the annual conference. In exceptional circumstances, more than one award may be given in a year.
An award may not necessarily be given out each year.
Nominations can be made by individuals or groups of individuals. Nominators may be non-NZSA members. Nominations will include a statement of support from the nominator and may include names of suitable referees.
The award may only be given to fully paid up members of the NZSA. All membership categories are eligible.
Normally the award will only be given to a member once in their lifetime.
An awards convenor will be selected from the current executive who will oversee the process of calling for nominations. The executive will elect an awards panel consisting of the awards convenor and no fewer than two other fully paid up members of the NZSA. The panel will decide on that year's recipient. The panel may call for any additional information from the nominators.
The awards panel will use suitable measures for each of the four criteria. These may include: for research, the publication record, and the originality, applicability, impact of the research; for contribution to statistical education, development of innovative teaching practices and curricula, development within other subjects, and development of links with other practices; for consulting, the project size, profile, application in a new area, rigour, relevance to solving real problems; and in promotion, the appropriate use of statistics and demonstrating the relevance of statistics. In all cases a record of achievement over an extended period is expected.
As the Campbell Award is usually presented at the Conference dinner, the deadline for nominations will usually be late in September.  A call for nominations will be sent to all NZSA members about two months prior to that. To make a nomination, please contact Matthew Schofield. The Awardee is presented with a plaque and a certificate, and is a guest of the presentation event.
Recipients of the NZSA Campbell Award are: