Useful information for young statisticians
Young statisticians are encouraged to join the NZSA and the first year of membership is free to senior students enrolled at New Zealand universities, or who are graduates of NZ universities studying overseas, and not in full-time employment.
Normally some funding is available to enable young statisticians to travel to NZSA conferences. Details are circulated with conference registration material. Special dinners for young statisticians are becoming a feature of our conferences.
---
Careers in Statistics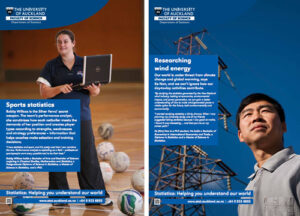 The University of Auckland's Statistic Department has information about where statistics graduates can end up working.
https://www.stat.auckland.ac.nz/en/for/future-undergraduates/statistics-courses-and-career-pathways.html
---
Links to other young statistician groups
Young Statisticians in the Royal Statistical Society http://www.rss.org.uk/site/cms/contentCategoryView.asp?category=195
Young Statisticians in the Statistical Society of Australia http://www.statsoc.org.au/about-young-stats.htm
---
New Zealand Mathematics and Statistics Postgraduate Conference (annual)
---
Links to awards/prizes for young statisticians
HRS Student Prizes
Hoare Research Software (HRS) has fostered a close association with the NZSA by offering prizes for the best student talks at NZSA conferences. A list of past winners is given here. When you submit an abstract, make sure that it is identified in the student category.
International Biometrics Society
The Australasian Region of the International Biometrics Society offers a Scholarship for Honours and coursework Masters students in statistics-related disciplines.
International Statistical Institute
Includes some information for young statisticians (if you search a bit) http://bs-erc.stat.unipd.it/
ENBIS Young Statistician Award
The Young Statistician Award is aimed to recognise the work of young people in introducing innovative methods, promoting the use of Statistics and/or successfully using it in the daily practice. People from both academic and industrial world are encouraged to participate. http://www.enbis.org/awards/young_statisitician/?prs=a4991d9428718a2cc754a122e48704c8