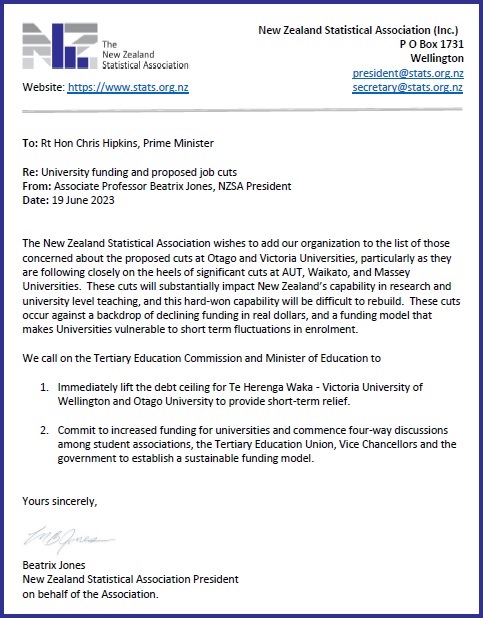 The New Zealand Statistical Association wishes to add our organization to the list of those concerned about the proposed cuts at Otago and Victoria Universities, particularly as they are following closely on the heels of significant cuts at AUT, Waikato, and Massey Universities. These cuts will substantially impact New Zealand's capability in research and university level teaching, and this hard-won capability will be difficult to rebuild. These cuts occur against a backdrop of declining funding in real dollars, and a funding model that makes Universities vulnerable to short term fluctuations in enrolment.
We call on the Tertiary Education Commission and Minister of Education to
Immediately lift the debt ceiling for Te Herenga Waka – Victoria University of Wellington and Otago University to provide short-term relief.
Commit to increased funding for universities and commence four-way discussions among student associations, the Tertiary Education Union, Vice Chancellors and the government to establish a sustainable funding model.
Yours sincerely,
Associate Professor Beatrix Jones
New Zealand Statistical Association President
on behalf of the Association
---
A signed version of the above statement was sent to the following people on 19 or 20 June 2023: